Thanksgiving is my least favorite holiday (well, besides made up holidays like Sweetest Day and such) so I am kind of annoyed that all of the questions this week are about Thanksgiving. Especially since it is, thankfully, OVER, now. Oh well, I should have expected it.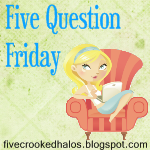 1. What is your favorite part of a Thanksgiving meal?
Sweet potatoes or the gelled cranberry sauce. I think mostly because I don't get to have these yummies the rest of the year. And, of course, the pumpkin pie! But really it's all pretty good.
2. Are you a host or a guest for Thanksgiving this year?
Guest. Always. Maybe some day I'll be brave enough to host. Maybe. Would you like that Mom?
3. When you think of one Thanksgiving tradition, what comes to mind?
Over-eating? We don't really have any traditions anymore.
4. You have two pieces of pie in front of you and you HAVE to eat one...do you choose pumpkin or pecan?
Easiest question ever. Hands down, pumpkin. It should be noted that pumpkin pie is one of my favorites and I don't like pecan pie at all. :-)
5. Are you a Black Friday Shopper?
Not anymore. It's a little more challenging with two small kids. We're thinking of going out later though now that the crowds have died down.