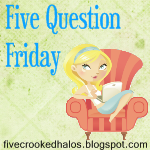 1. Dream job...realistic and completely unrealistic.
I have 3 dream jobs. Two of them are completely unrealistic. And one of them is realistic, just not at this time. They are 1.) Being a stay at home mom. Or work at home mom making something really cool (diapers or other baby things); 2.) Being a vet (never going back to school. no way.); and 3.) Being a lactation consultant and working with pregnant moms and new moms and babies. Someday....
2. Do you fart in front of your significant other?
Yes.....
3. What's the furthest you've ever traveled from home? How far and where was it?
I think that would probably be when we went on the Disney cruise to the Bahamas when I was about 9. Either that or California for my uncle's wedding. I'm not sure which is actually further from here but I'm thinking Bahamas.
4. How do you celebrate birthday for your kids? Family only or friends? ... Alternate for those without kiddos: How did you celebrate birthdays as a kid?
Well... right now our kids are so little that we do a little of both. They don't really have many friends so we invite our close friends as well as our family to the party. It's worked out well so far. As they get older and into school I imagine we'll have a small party for family and a small party for friends. Is that weird? We really love birthdays in my family!
5. Fave thing about fall?
Apple orchards. Pumpkins. Pumpkin pie. Pretty leaves.
Subscribe to Love{&}Bugs by Email