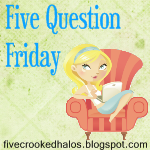 1. What ringtone do you have on your cell phone?
Good thing my cell phone is sitting right here because I had to look. It's called "Born to Dance"
2. What is your favorite memory from this summer?
My mom being able to come to our house again, taking the boys swimming at the pool, just watching them grow and change and learn on a daily basis
3. Paper books or ebooks?
paper
4. If you could have one home upgrade what would it be and why?
Aside from a new house.... I'd love to redo our kitchen - our cabinets are falling apart. Or repaint.
5. When was your first serious boyfriend/girlfriend?
2001
Subscribe to Love{&}Bugs by Email