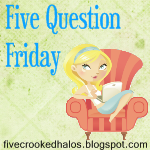 1. How often do you shave your legs in the winter?
Usually a couple times a week. Whenever I can get a shower to myself. I usually have the boys in with me and I refuse to shave myself when they are in there, for multiple reasons.
2. Valentine's Day cards for your spouse: funny or romantic?
Funny :-)
3. What are you most looking forward to about spring?
Flowers. No snow.
4. What's your favorite way to pamper yourself?
Taking a nap! Or getting a massage.
5. Does your tax return go into savings or do you spend it instantly?
We usually have
something
we need to spend it on. And then the rest goes into savings.
Subscribe to Love{&}Bugs by Email