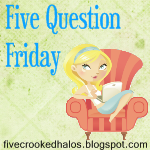 1. What's your favorite way to spend down time (alone or with a significant other)?
sleeping, playing on the computer, or reading
2. Are you the kind of person that wants things more as soon as you know you can't have it?
of course! that's why I don't diet :-)
3. If you were given $1000 to spend on yourself, what would you buy?
diapers, clothes, not sure what else
4. Do you ever go out to eat by yourself?
no
5. What company would you want to do a blog review for?
I'd love to do a review for any baby product or cloth diaper companies but I really really really would love to do a review for Thirsties!
Subscribe to Love{&}Bugs by Email