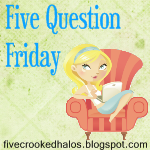 1. What is your favorite sign of spring?
Warm weather. Flowers. Green everywhere. Waking up to birds singing outside my window. Windows open. Baby animals. EVERYTHING!!! (well, except allergies)
2. What was your best birthday ever?
My 24th birthday. It was my golden birthday, Matt & I had a lot of fun together and he surprised me with a Wii which I had been wanting soooo badly (and now never play lol) He went all out with gold everything, it was so much fun. Plus, I became a mom when I was 24 so that just adds to it being the best year ever.
3.
What is your favorite dessert?
I'm not sure it's possible to pick ONE dessert. I love ice cream though.
4. What is the best excuse you've ever used to get out of a ticket?
I've never had to use one
5. Do you wake up before your alarm, with your alarm, or after hitting snooze several times?
Subscribe to These Precious Moments by Email