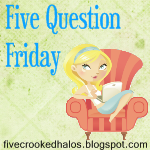 I haven't done one of these in awhile because the questions haven't been interesting. This week's aren't terrible so I'm back!
1. If you had $1,000 to donate to a charity, which would you choose?
Probably the American Cancer Society or some sort of cancer research. I also support the ASPCA.
2.
Snow days: Do you welcome them happily or are they a pain in your butt?
Well, nurses don't get snow days so they are mostly just a pain in my butt.
3.
What talent did you wish you had and why?
I wish I was more crafty. Especially with sewing.
4.
Are you a news, politics or celebrity gossip junkie?
Celebrity gossip, for sure!
5. What is your favorite "cocktail"? (Are you a beer person, a kiddie cocktail junkie, or perhaps your more the "Cosmo" kind?! Anything flies...doesn't
hafta
be alcoholic!)
I don't drink so I'd say a root beer :-)
Subscribe to These Precious Moments by Email