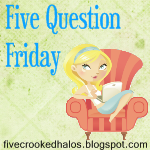 1. If you had to choose, how would you prefer to choose to spend money...on landscaping or a pool?
In a perfect world, a pool, hands down. But our yard would be terrible for a pool so realistically landscaping. Or just crafting or diapers ;-)

2. Death penalty, yay or nay?
Given the right circumstances, yay. I am for it.

3. What's the worst thing your kid has gotten into when you turned your back/blogged/showered/blinked?
Thankfully, I think the worst that Jake has done is draw in crayon on the wall/window/furniture/etc. And there was that one time when he dumped almost an entire container of brown sugar all over the carpet. Ugh. But it could have been worse, right?

4. How often do you REALLY go to the dentist?
Every six months, right on schedule. I actually like going to the dentist.

5. What is your favorite animal (doesn't have to be a pet-type animal)?
I'm pretty sure everyone knows... GIRAFFE!!!



just look at that cutie!!!
Subscribe to Two Little Monkeys by Email