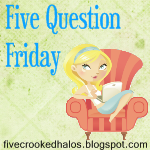 1. What is your favorite Christmas decoration in your house?
This is a hard one because I have several. My very favorite is probably my Sleigh Ride Precious Moments figurine. I also love the nativity set from my childhood (my dad made the manger!), and a few of my ornaments (especially our Mickey and Minnie 1st Christmas together ornament)
2. Do you finish your Christmas shopping early or are you a last minute type?
I shop year round so I'm really never truly finished. Whenever I see something I think someone will like or find a good deal on something, I will pick it up and save it for Christmas or birthdays. That being said, I try to have my Christmas shopping (except stocking stuffers which I usually get at the last minute) done before Thanksgiving because I don't like dealing with the crowds in stores and especially in parking lots closer to Christmas.
3. When do you turn on your heat?
Whenever it gets cold enough.
4. Do you ever wish your blog was private?
No, not really. I keep another blog that is more "private" (nobody from "real life" can read it) so if I want to write something private, I can do it in there. I can also write posts that are only viewable to me in there too.
5. Do you put your deodorant on before of after you put on your shirt?
It really depends but most of the time after so I don't have to worry about deodorant lines on my clothes.
Subscribe to Love{&}Bugs by Email