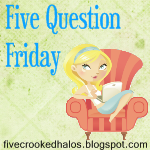 1. If you were free to just hop in the car and drive, where would you go? Or, if you could hop a plane and go anywhere, where?
I'd like to go to the Carolinas :-) Planning a trip soon!
2. What's your most recently read favorite book?
I think this is obvious but... THE HUNGER GAMES!!!!!!
3. What's your favorite Spring Break memory?
It's been a really really long time since I've had a spring break so I'm not really sure.
4. What do you put in your child's Easter basket? Or, for those w/o kids, what was put in your childhood basket?
I am trying to not put a ton of candy in their baskets. Last year Jordan's had cloth diapers, baby legs, Sophie the Giraffe.... I can't remember what was in Jacob's. This year I got them both lots of books, some socks, a shirt, and a few other things. I do plan to get some candy or treats too but I haven't yet.
5. Do you get a summer haircut?
Sometimes. Last year I cut my hair really short in the summer. I think I'm about due for another short haircut again.
I am linking up this entry as part of
My Little Life
's Five Question Friday blog hop. Stop by and join in the fun!
Subscribe to Love{&}Bugs by Email