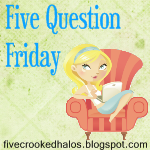 1.
What giveaway would you like to do on your blog?
I'd like to giveaway anything that I believe in -- cloth diapers, breastfeeding products, household products I like, etc.
2.
If you had to choose between natural artistic ability and natural athletic ability, which would it be?
This is a hard one. I'd like to be more athletic and more in shape, for sure. I'd love to be able to teach the boys different sports. But at the same time, I definitely wish I was more artistic. I'm not sure how to answer this!
3.
Do you ditch the coat the minute it becomes "spring" or are you a holdout for more cool temps?
I'm a wuss for being cold. I hate being cold. So I bring a jacket until it's much warmer
4.
What would you do if you won the mega millions lotto of 1/2 billion dollars?
There is a mega millions sign on my way into work so I think about this often. My answer is pretty boring. I would pay off our house and make the improvements to it that we'd like to make (painting, finishing the basement, etc) I'd also possibly buy a new house somewhere else. I'd buy all the things I'm wanting to try but can't afford. I'd put most of it into college savings for the boys and I'd have another child because I wouldn't have to worry about the financial aspect of that. I'd give lots of money to charity - especially The American Cancer Society and The ASPCA. Then I'd save save save.
5.
You are at a hotel by yourself...what do you do?
This is easy and also a fantasy of mine. I'd sleep! Sleep sleep sleep! Sleep until I want to wake up. No alarms. No kids coming in to pull the covers off of me. Just me and my body resting until I no longer need it. Then I'd spend some time in the pool and hot tub. And then I'd probably sleep some more. Wow, is that boring of what?
Subscribe to Love{&}Bugs by Email