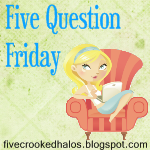 1. Vow renewal ceremonies-yay or nay?
You know, I don't think I really have an opinion on them one way or the other.
2. What sound/s annoy you the most?
Whining. Especially from grown adult patients. Ugh.
And also when you slide your silverware across a plate. It makes me shudder!
3. If you had to pick, would you have only all boys, or only all girls for kids?
I already have all boys so I'd have to go with that one!! :-)
4. Do you believe in alternative medicine?
Yes and no. There are certain things that I agree with. Others that I don't. I don't believe in ALL alternative medicine. But I do think there's merit in adding some alternative medicine in with mainstream medicine.
5. Would you take a family member's children and raise them if they needed it?
Abso-freaking-lutely!
That being said, no one in my family really HAS kids. But if they did, yes indeed, I would!
Subscribe to Love{&}Bugs by Email