I need an attitude adjustment, that's for sure. So in honor of this week's
Top Ten Tuesday
, I'll do a list of gratitude.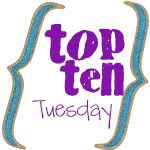 1. I'm grateful for my two beautiful and healthy boys. Even though they drive me crazy most of the time, I am so thankful that God trusted me enough to be their mama when I am sure there were many much more qualified women He could have given the job to.
2. I am grateful for a husband who loves me even when I don't deserve it -- which is quite often!
3. I am grateful for my amazing parents who are always there for me and my family and always willing to help us out whenever we need it.
4. I am grateful for my amazing in-laws for the same reason. I am also thankful that I have in-laws that I actually like -- no... love -- instead of the stereotypical can't-stand-my-in-laws
5. I am grateful to have a brother who is one of my best friends. He's truly the best!
6. I am thankful that I have a job that pays the bills and that I sometimes even like. Right now is a rough time at work for me but I am grateful to have a job in this economy. I am thankful for coworkers who make the unbearable bearable.
7. I am grateful that I have a nice house to live in that meets our needs as a family. It isn't where I want to be forever and it's hard to feel stuck here with the housing market the way it is, but I am thankful that it is ours and we have been able to do a few new things to improve it (like adding a backsplash in the kitchen, putting in carpet, and the recent laundry room revamp)
8. I am grateful that we live comfortably enough to treat ourselves to things every now and then. I try not to be too materialistic but sometimes some new fabric or new clothes can really improve my mood.
9. I am grateful that I have been able to breastfeed both of my boys and that I have such an awesome supply this time around that I am able to donate to other babies who need it. It's been an incredible experience.
10. I am grateful that I was born into a family that lives in this wonderful country, that I was born free and with all the things I would need to grow up healthy. I am grateful that I was born into a family that knows Jesus and that some day He will call me home!
I really am a lucky girl.
Subscribe to Love{&}Bugs by Email