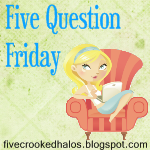 1. Groceries are high right now what is easiest way you have found to cut back?
Well, obviously using coupons helps. We use some coupons but we aren't like "couponers" or anything. Nothing extreme. I don't have enough patience for that. We've also found making meal plans helps cut back on our bill because we don't buy a bunch of extra stuff because we think we'll use it.
2. What are the top 3 things on your "bucket list"?
I'm not sure. There's lots of things I want to do. I want to be a lactation consultant. I want to visit every state in the US. I'm not sure what else right now.
3. Would you rather give up AC or heat?
WOW this is a hard one. I'd like to say heat because you can always add more layers to stay warm. BUT I really hate hate hate being cold. Then again, I don't like being too hot either. And like my Papa always used to say (and by always I mean he probably said it to me once....) "If you are too cold you can add more layers but if you are too hot you can't always take more layers off" Smart man, that one!
4. What's your favorite cocktail??
None. I don't drink. I don't mind a virgin version of a Strawberry Daiquiri and Sex on the Beach
5. What was your first job & how old were you?
I think I was a few weeks or months shy of 17. I worked at a little scrapbooking store called Legacy for a Lifetime. It was a fun job. I worked there until the store closed.