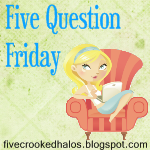 1. Would you grow your hair out to donate it?
I have always wanted to do this. I have told myself countless times that I was growing my hair out and donating it. I've come very very close to the minimum requirement but I always end up cutting it too soon. So even though I would absolutely LOVE to, I think the reality is no. My hair is too much of a pain to deal with. In fact, even though I've been toying with the idea of growing it out now (you know, so I can braid it....) I am also seriously considering just getting it cut short again and being done with it!
2. What song makes you think of summer?
There's definitely no one song that makes me think of summer. I used to always listen to rap music in the summer and country the rest of the year. I think because rap has a good beat and that reminds me of summer somehow. But I really just listen to country and easy listening and kids songs now.
3. Are you a flip flops or sandals kind of person?
Yes. More so flip flops than other kinds of sandals but yes to both! They are just TOO easy!
4. Favorite summer treat (ie ice cream, snow cones, etc)?
Soft serve ice cream chocolate/vanilla twist. Yummmmmmmmmy!!!
5. Do you do something special for the father of your children?
I assume this means for Father's Day. Yes, I do. I can't say what though since he might read this. But the kids are too young to do anything themselves yet -- though I do try to at least involve them somehow. :-)