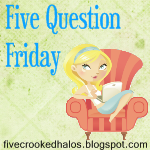 1. Do you prefer cotton, silk, or flannel sheets?
I like cotton in the summer and flannel in the winter. I cannot stand the feel of silk for anything. *shudder*
2. What time zone are you in?
EST
3. What is your favorite part of the holiday season?
The togetherness of family. And there is just a feeling that's different around the holidays. I cannot explain it but I wish I could bottle up that feeling and sneak a little of it year round.
4. What is your favorite "wintry" drink? (It doesn't have to be an "alcoholic" drink!)
Egg nog and hot chocolate are both yummy in my tummy!
5. In your opinion, what is the worst job in the world?
There are many days when I'm tempted to say "MINE!" Especially when it's my weekend to work. But... my FIL used to work at the poop factory and I think
that
has got to be the WORST.JOB.EVER.
I'm linked up with
My Little Life
Subscribe to Love{&}Bugs by Email