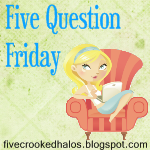 1. Is there a special dish you prepare that you are famous for?
No, not really. My husband does most of the preparing these days. We do like to do horseradish dip and dog food dip though! And pumpkin dip in the fall! I guess we like dips...
2. Are you (did you) go Black Friday shopping?
I woke up randomly at 4am and decided to do a little Black Friday shopping from the comfort of my bed. Matt was out at the stores. Later in the morning (around 10.30ish) we went back to the mall and it was crowded and annoying. We got the towels we are in love with, though, at a good price. So I guess it was okay :-)
3. What are your strangest holiday traditions?
I honestly can't think of any. When I was younger I used to dress up as a pilgrim or an Indian every Thanksgiving. That's a little strange, lol.
4. Pecan or pumpkin pie?
PUMPKIN!!!!! For sure!!
5. When will you put up your Christmas tree?
That's a very good question. I would have liked to put it up this weekend but that darn job of mine got in the way. Next weekend we're pretty busy with Jacob's birthday party. So I'm not sure. Possibly sometime this week. Possibly even after I get out of work tomorrow or Sunday. I'm ready to Christmas-fy this place. I just need some energy! And a babysitter!
Subscribe to Love{&}Bugs by Email