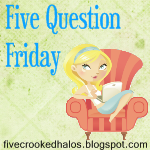 1. What's the last thing you spent too much money on?
Oh, that would be the Caillou doll that we bought for Jacob last night at Toys R Us. $32.99 for a
doll
seems a little ridiculous to me! BUT the look on his face when he sees his very own Caillou is going to make it all worth it! Is it Christmas yet?????
2. What celeb chef would you want to make you dinner?
I'm going to say Rachel Ray because she's the only one I can think of. But besides that, I love her smile and her happy personality and I think she'd be fun to hang out with. Plus she's an animal lover.
3. Where do you hide things when visitors pop over or do you let them see the real deal?
Mostly they get to see the real deal. But unfortunately, our closet is a dumping ground too. Tackling that is on my to-do list.
4. Who is your oldest living family member?
That would be my grandma, Grammy, my mom's mom. She just turned 92 in October.
Here she is on her 90th birthday. Isn't she adorable?
5. What is your favorite DQ treat and/or Sonic drink combo (ie: cherry vanilla Dr. Pepper)?
Well a Cherry Vanilla Dr. Pepper sounds delicious!!! But my favorite SONIC specialty drink is a Strawberry Limeade, hold the lime. Yeah..... I know...
Subscribe to Love{&}Bugs by Email