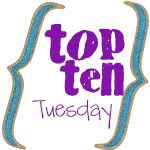 In no particular order....
1. Catching Fire by Suzanne Collins (I might buy this one for myself though, since I'm almost done with the first book)
2.
Mockingjay
by Suzanne Collins
3. Invisible mark pen for sewing
4. Space saver storage system
5. Thirsties Duo Diaper Pocket, Size 2 -- in blackbird, especially
6. Thirsties Duo Diaper AIO, Size 2 -- any color
7. Bumgenius Freetime in mirror, especially
8. Bumgenius Elemental in any color
9. Hobby Lobby gift cards
10. Massage!!
Subscribe to Love{&}Bugs by Email