I'm up with the babe snuggling him back to sleep so I figured I might as well do something useful. Not entirely sure how "useful" this really is, but hey!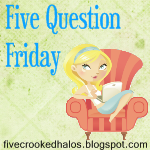 1. What's on the top of your holiday wish list and why?
It was really hard for me to come up with
anything
to put on my wish list this year so I'm going to be cheesy and say just seeing the joy on Jacob's face when he sees all his new things. And of course, health and happiness for all my loves.
2. What is your favorite Christmas gift from the past?
I've received many many wonderful gifts. It would be hard to even pick. One that sticks out from my childhood was my dollhouse. Recently, my mom ring and my cricut are right up there.
3. If you had life to do over, what would you be when you grow up?
The same thing I wish I was now - a stay at home mom. I also wish I would have been a vet. Or I'd like to work with pregnant women/babies. There is still time for that last one...... someday!
4. When do you put up your tree?
It varies. Whenever we are inspired to do so. We try to wait until after Thanksgiving but haven't always. This year we put it up either the Friday or Saturday after Thanksgiving, can't remember now. But we didn't decorate it for two days!
5. What is your favorite Holiday?
Easter & 4th of July