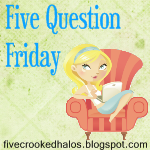 1. Do you regift and if so, do you have a regifting horror story?
I am not opposed to regifting. Especially if I receive something I already have/don't like/can't use and I know someone else would like it or be able to use it. I can't think of any horror stories though. I know this should remind me of Seinfeld but it reminds me of Old School.
"Actually, I gave you that for your wedding"
2. Do you know what you are getting for Christmas this year?
I know one thing -- some shelves for our living room - because I not only picked it out, I bought it for myself :-)
3. Who brings the most gifts in your family, you or Santa?
Still trying to figure out exactly what we're doing with Santa. This year they are all coming from Santa since they are too young to know what's going on.
4. What store do you love to buy jeans from?
I don't love to buy jeans at all but mine usually come from Kohls or Target.
5. Christmas meal: Big, All Out Meal or Snacks and Apps?
Usually we do a big meal. This year we're doing appetizers.
Subscribe to These Precious Moments by Email