Thankful Thursday
I forgot to post my Thankful Thursday yesterday. This isn't what I intended on writing for yesterday's post but it needs to be said. I'm thankful for my father in law. He helps us out so often! He is currently shoveling the snow from our driveway so I can get out if I need to today and so my husband doesn't have to do it when he gets home from work tonight. He is doing this while I am sitting in my nice warm house, all snuggly, on the computer. Yes. Today I am thankful for my father in law :-)
Five Question Friday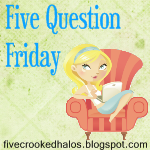 1. Do you open presents on Christmas Eve or Christmas Day?
Both. And then some.
Growing up, my family always celebrated Christmas on Christmas Eve. We'd go to church, have a nice dinner, and open presents. When we were younger, we'd open Santa gifts Christmas morning as well. Now that I'm married, we have tons of Christmas celebrations. It always starts the Sunday before Christmas when we get together with my husband's mom's side of the family. My husband and I often open gifts to each other sometime during that week. Christmas Eve with my family. Christmas morning with his family. Christmas afternoon with his dad's side of the family. Whew.
2. What is your favorite Christmas cookie (or candy)?
I guess I didn't know there were different Christmas cookies/candies. We've always had cutout cookies that we frost (Wilton's Buttercream frosting, mmm) and decorate. I plan on making some with Jacob this weekend! I can't wait!
3. What's the worst Christmas gift you've ever received?
Nothing comes to mind.
4. Christmas song that you love?
My very favorite Christmas song is "O Holy Night" and I especially like Josh Groban's version of it. I like pretty much any version that has more than just the first verse. I love all the verses to this song and I want to hear them all!!!!
I also love..... (are you ready??)
"Rockin Around The Christmas Tree"
"Why Can't Every Day Be Like Christmas" - Elvis Presley
"12 Days of Christmas" muppet style!!
"Oh Little Town of Bethlehem"
I'm sure there's more. Much more. This is what I can think of right now. I LOVE Christmas music!!
5. How many trees do you put up?
one....??
Subscribe to These Precious Moments by Email